Date/Time
Date(s) - 8 September 2022
18:00 - 22:00
Location
Pontis, Perini & Perini Bar
Categories No Categories
We're talking Style and Confidence & Feeling Fabulous with Stylist Beverly. Don't miss this opportunity to meet likeminded singles
*Style Workshop*
Ticket includes access to Singles Dating Event at 7pm
Guest speaker Beverly Osemwenkhae
Native NYC Fashion Stylist Beverly O is best known for her trendy, innovative and bold style decisions. First introduced to the industry as a teen model, she has since then passionately cultivated her style and fashion sense — making waves throughout the fashion industry
Beverly will be hosting a workshop on how what you wear makes an impact on others and more importantly yourself!
Beverly has joined us at previous Single Boss Events, sharing her knowledge of trends and new styles, perfect for updating your wardrobe.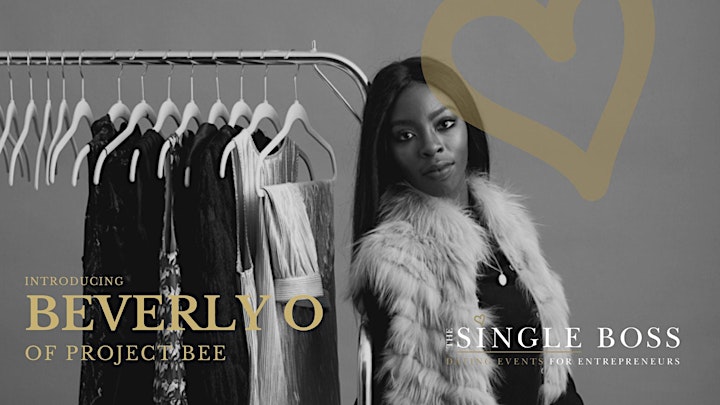 Beverly has worked with iconic fashion brands such as Lanvin and Christian Louboutin. Shortly after her transition from PR to styling, her editorials were featured in international fashion publications such as Vogue Italia, Elle Vietnam, Made in Brazil, Fault UK and Jones Magazine.
Many of us are simply lost with what to wear, on first date or a special occasion. Beverly is here to provide the right tips to help anyone up their confidence and dress for success.
Beverly helps people to make their look reflect the absolute best of themselves. From TV celebrities, top models, fashion enthusiasts, Beverly is there for those of us who just need to clear out the old and get a fresh look.
The Single Boss
Tailored events exclusively for the single professional.
These events are where you want to come for a few hours of mingling and relaxing with like minded people who take work, creativity, risk and reward seriously.
We focus on making our events enjoyable for all, we always offer a warm welcome and hope that you'll feel comfortable. Join us, meet like-minded people and never worry about coming to an event alone, we're here for you!
What to expect on the evening:
6pm Style Workshop
7pm Singles Dating Evening
Welcome drink
Meet & Greet
Brilliant and engaging speaker
Fun and relaxed atmosphere
Guaranteed pressure-less interactions
Great conversation, surrounded by like-minded people
Perini and Perini is downstairs in PONTIS, which is on the corner of "John Princes street and Great Castle Street" right next to Oxford Circus tube station.
Date and time : Thursday, 8th September, 6pm – 10pm
Age range 28+